Hey parents, when was the last time you jumped into a picture with your kids? Selfies don't count!
When was the last time sat back, relaxed and let someone else handle the camera while you just spend time with your kids?
Every family has a unique story but that story isn't found in selfies or on your smartphone!
As a photographer and filmmaker, I specialise in Documentary Family Photography and Real Life Family Films. But what does that mean?
Life is messy – just look into your child's room and you will probably agree (unless you just cleaned it for them). There is no perfect version of your life so let's embrace the chaos and let me document and show you how beautiful it all is.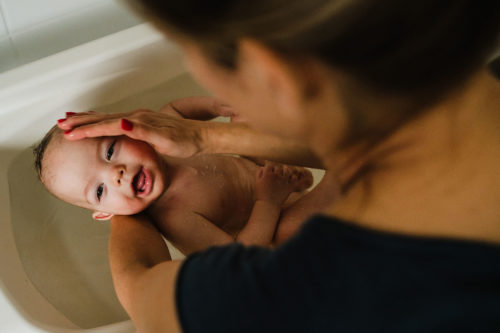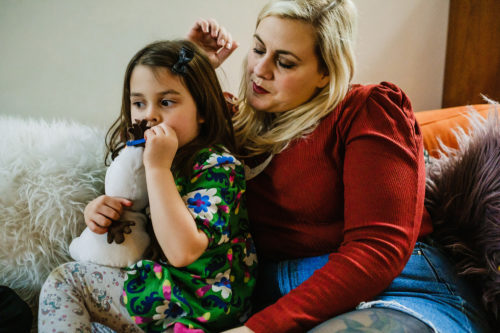 Today might not be special but it will come and go and never happen again. Your kids are only that little once. Tomorrow they'll be just a bit bigger. Routines change, moments turn into memories. Let's collect them in beautiful photos and videos as a keepsake.
What is Documentary Photography?
There are a lot of terms describing this style of photography – candid, photojournalistic or "day in the life". It all comes down to the same idea: You'll not be directed or posed for any photo, ever. The goal is to document life as it is – messy, real, chaotic, fun…
I'm passionate about capturing my clients in their homes. It's where you and your kids will probably feel the most comfortable. It also gives me the opportunity to document you in your personal space. In 20 years, you'll look back at these images and remember all the small details that will have changed in your life.
But documentary family photography doesn't just work at home. It can include walking the dog, going to the market to buy eggs, picking up the laundry or visiting the playground. Whatever your day would usually look like, will be part of the photos that tell the story of you.
The goal of my documentary photo sessions is to capture who you are as a family and create memories for you and your kids to look back to in years to come.
learn more about Documentary Family Photography Sessions
What are Real Life Family Films?
A family film is like a photograph coming to life. It's a family portrait. It captures the essence of a family or a person and translates it into a tangible memory. In my films, I add movements and sound which makes a memory so much more real.
Imagine you could bottle up the way your child mispronounces a certain word. The way it feels to prepare breakfast together. The mess too. Anything that seems to be a routine and ordinary in your life now will feel special a few years down the line. These moments are a keepsake you will be able to relive it in a month or 20 years through my films.
learn more about Real Life Family Films
Your experience with me
A family photography and film session with me is like hanging out with a friend who brings her camera.
Sessions with me are very relaxed and low key. I'm there to take photos of your everyday and my aim is it to capture moments and memories that will be uniquely you.
During your session, I'll be something between a fly on the wall observing your family dynamics and being right in there with you, hanging out. If it's quiet time, I'll be quiet with you. I don't interfere but I interact when it feels right.
Also, if your kids are doing something they're not supposed to do, I'll 100% be there with my camera, ready to capture it.
Family photos should be fun, unposed and represent you as you are. What you get from me are honest and real documents of your family to help you remember life exactly as it is now.
Let's create a beautiful collection of genuine memories of your life today. It's not just for you but for your children too.
If what you just read, resonates with you, then you understand how important it is to celebrate the ordinary in your life. Let's have a chat about that!
I'm based in Brighton & Hove and cover the south coast of England, documenting family lives through photography and film. I'm happy to travel further afield as well though so if you don't live in the south of the UK but are interested in my work, please get in touch.
Pricing:
Family Photography Sessions start at £200
Family Films start at £950
To find out know more about my sessions and prices, you can request a brochure below.