Branded Video Content is proven to be the best performing digital content type.
Brands and commercial clients have been part of my professional life for as long as I can think. I will listen to your brand's story, your needs and challenges and work with you rather than just for you.
Branded work allows me to come up with concepts and approaches and create stories where others might struggle to see the potential. Storytelling is part of every project I do but not every story is the same.
My work is honest, personable and relatable. Your clients don't buy what you sell but why you sell it. No matter how small or big a project or budget is, the essence of successful work is always the same: STORY. Let's use your passion for your products and services and my passion for story to create something your audience will connect with and really care about.
Let's tell your brands' story and help you reach out to your customers!
Bringing your company's message across to your audience is a vital part of being successful in your field. But you already know that. What you might not yet know is how important video is in order to reach your clients or customers. A website with branded video content will be ranked higher by Google than one that's text-based or shows photography only. Video also grabs attention and encourages the viewer to engage. That drives conversion and sales. There is an abundance of articles and studies available to prove these claims. So let me help your company to make use of all these opportunities video can offer.
Why should you work with me?
I offer a full service for photo and video production. With over 13 years of experience in the video industry, I've gone through all stages of video production. Creating branded video content for a wide variety of clients has been the main focus of my work over the past years.
With your knowledge and expertise leading the message, I will help you find the right approach for your branded video content. The aim is to cover your key messages in your tone of voice and create outputs for any channel you want to use, to reach your audience. I will help you with story-finding, script-writing, storyboarding, direction, scheduling, filming, editing, soundtrack and motion graphics.
The pre-production process is vital to a successful outcome. You will be involved in the process from start to finish to ensure your approach fits the purpose before we start the filming.
The turnaround for a video project can go from a few days to a few weeks or months even. It all depends on how we work together as well as how big the production needs to be. The pricing for any branded and commercial projects will be determined by your requirements.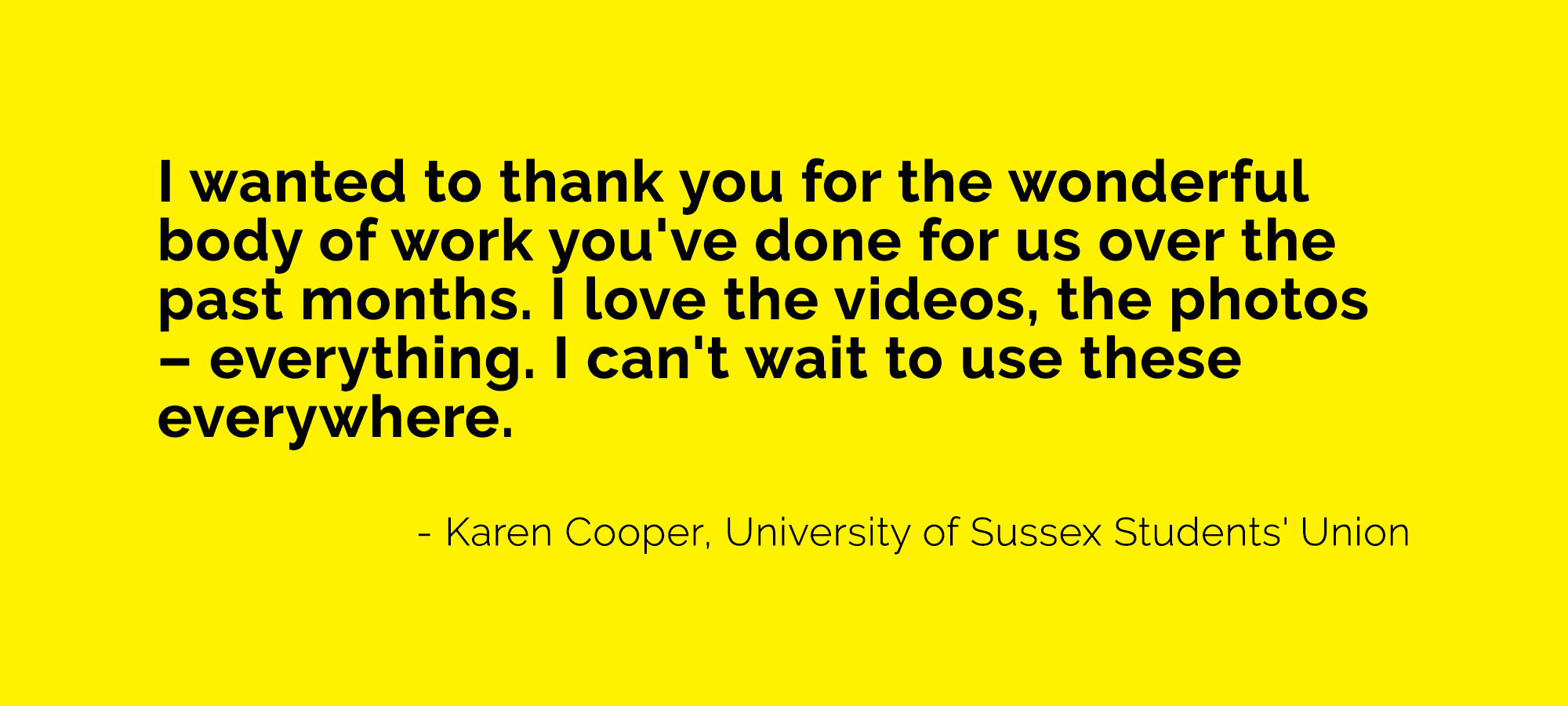 Rates and payment terms
Prices for filming, editing and post-production vary based on your project requirements.
A small video production including half a day of filming and 1-2min video output, starts at £950.
For projects that require photos and film, prices start at £1200 for half a day of filming on location, 1-2min video output and 20 high-res images.
Every project is different, there is no "one size fits all". Rather than giving you a set price, I will work with you to create a bespoke offer for your specific needs. With this, we can set up workload, timelines and responsibilities that will make the process a lot easier for both sides. So I encourage you to get in touch if you require a tailored quote for any project and we can have a chat about what you need.
For bookings outside of Sussex, I will ask you to cover travel cost as well as accommodation, if applicable.
I ask for a booking fee to secure the time in my calendar needed for your project. The remainder of the balance is due 7 days after you've received and approved your finished product(s). You will receive individual invoices for each payment ahead of time.
Production process
Before I can create a quote for you, I will ask you a number of questions to determine the scope of the project including filming requirements, timelines and deliverables needed.
Once we have agreed on the terms of your booking, you will receive a pre-production document to establish your message, mood and style, interview requirements, filming dates, music licensing and overall production process. I can provide you with resources that will help you understand the different aspects of my workflow. This is supposed to help you clearly understand the individual steps that are needed to produce a video that not just reflects your values but speaks to YOUR audience in the right way.
Some example videos I've produced in the past are linked below:
Please get in touch if you are interested in working with me to create some branded video content or photography for and with your company. I offer everything you can find above and more! Interested? Message me to have a chat about what you need.